Our Aim
Our aim is to help our community enjoy their garden, home and workplace, across Dorset, Hampshire and the New Forest.
Gardening is good for the body and soul; whether it's the scent of fresh cut grass, the full flavour of a home-grown tomato, the pleasure of home cooked food with friends or the health benefits to be gained by having plants in the office, it's more than just a hobby.
Stewarts is a family-run business offering quality products and services and friendly, down to earth advice to ensure our customers leave us feeling happy and part of the family.
Our History
We are rightly proud of our history. It's amazing, not only for the fact that the business has remained within the same family for over 280 years, but also for the amount of historical material that has been saved during that time.
However, we remain a business, and the fact remains that in commerce a 'nice' history counts for nothing (just consider Barings Bank).
A history will always remain a 'nice to have', it does not guarantee us a future. We need to understand that.

We hope you enjoy reading about it.
Martin Stewart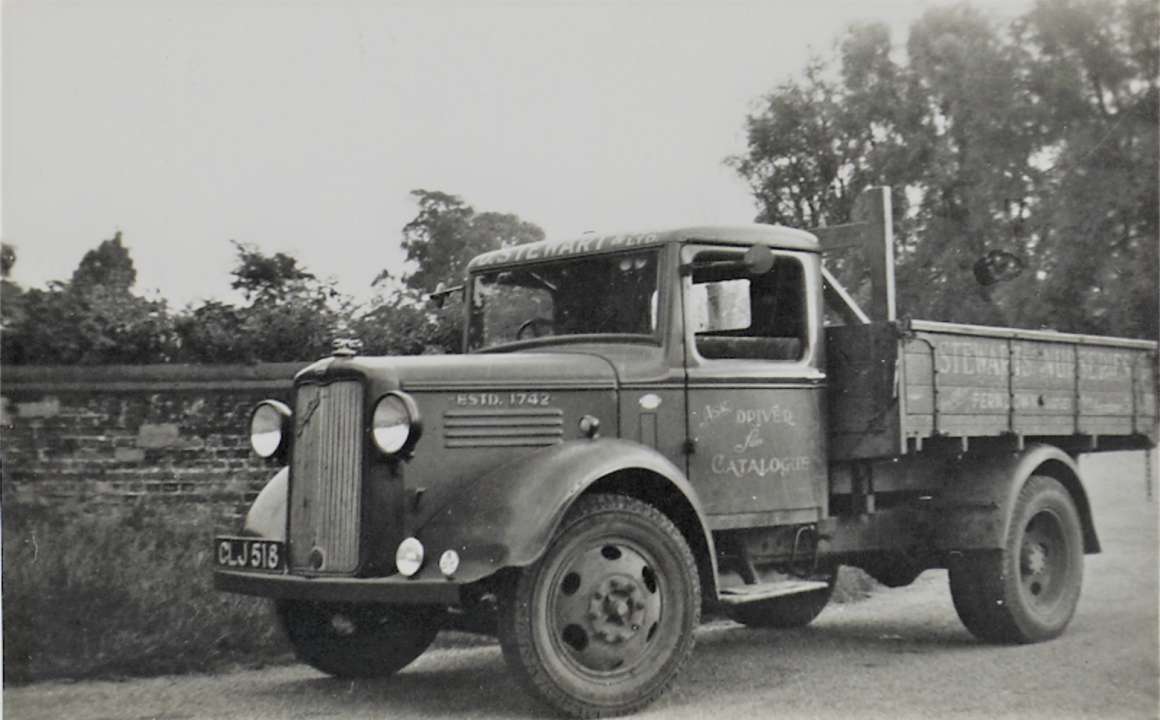 From 1742
Charles Stewart, the Great, Great, Great Grandfather of the Company's present Managing Director, was a plantsman of renown in the era of the great Scottish nurseries of the 18th century.
Records show that his family were growing forestry trees as far back as 1742.
His knowledge and professional skills were later to re-emerge in his eldest son John who, in 1835, transferred his father's nurseries to Broughty Ferry on Scotland's East Coast and continued their extensive seed business from premises in Dundee.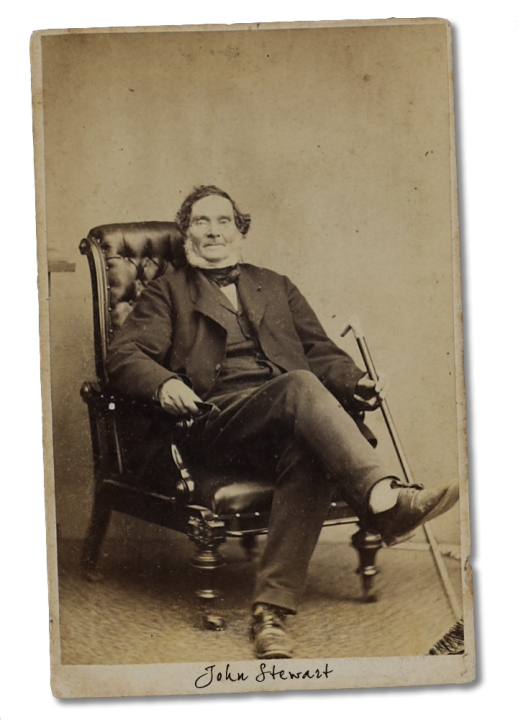 John Stewart
From Around 1835
John traded under the name of John Stewart of Dundee while also acquiring the century old business of William Urquhart and Sons.
Many documents survive which relate to his period of management to tell of his vast range of stock; of the thousands of millions of forest trees he grew and how he threw open his nursery grounds and plant houses for public enjoyment.
"The grounds were beautiful in the extreme and afforded unalloyed delight to the crowds of visitors who were attracted to them" reported one Scottish paper at the time.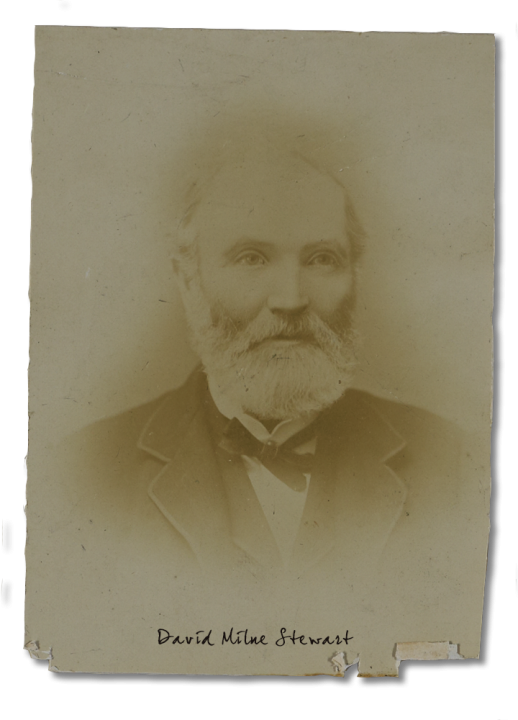 David Milne Stewart
From the Mid 1850s
John's two sons, David and William, followed in the tradition of their ancestors.
William continued to manage the Scottish establishments whilst his younger brother travelled south in 1859 and started a branch nursery at Ferndown in Dorset. Here he was able to take advantage of the milder climate for the growing of less hardy stock.
Together, the brothers traded widely throughout Britain, the Continent and the USA. William & David corresponded almost daily with the letters received 'down south' safely in the family archives.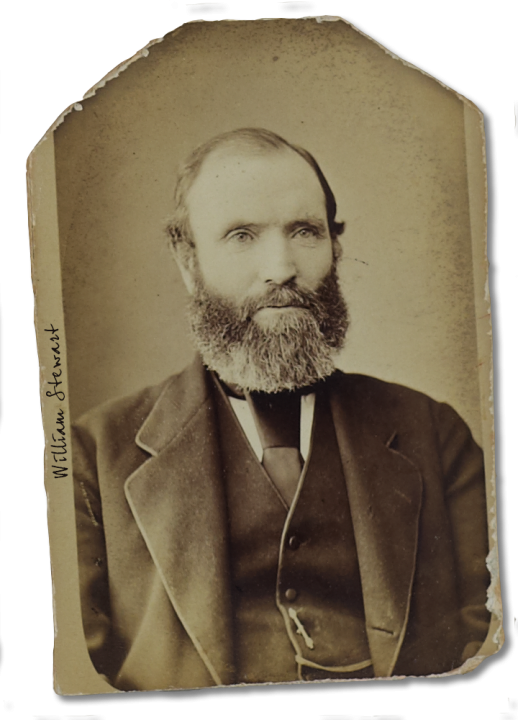 William Stewart
The Early 1900s
Of David's four sons who followed in his footsteps, it was left to A F Martin Stewart to overcome the depressing period of the early 1900s.
But overcome it he did and the firm continued as one of the largest producers of nursery stock in the country. They undertook major landscaping projects, massive tree moving, the laying of golf courses and tennis courts.
Ferndown Golf Course was constructed by D. Stewart & Son, with all the construction records still in existence.
Over the years they established branch nurseries at Deans Park and Strouden in Bournemouth, another at Milford-on-Sea, at Glastonbury in Somerset, Bosham in Sussex and nearer to their head office at Uddens, Parley, Longham and West Moors.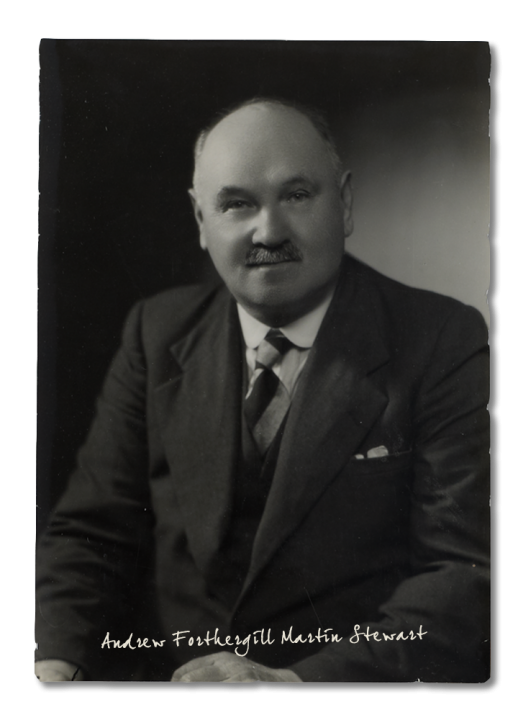 AF Martin Stewart
The 1950s
D Stewart & Son remained at Ferndown for a full century before vacating the site in favour of fresh farmland at Broomhill during the 1950's. It was at this time, perhaps the most dramatic phase in the firm's long history, that container grown stock was introduced into Britain.
An article in the Sunday Times (28th May 1972) acknowledges that it was Edward Stewart (only son of AF Martin Stewart) who should be credited with this initiative. He changed in one action, the whole horticultural industry.
By leaving their root system untouched, plants could be transplanted 12 months a year. Prior to this innovation, nurseries, (including Stewarts) only had income from October to March each year.
At the same time Edward took full advantage of the experience he had gathered, flying 'Mosquitoes' in Burma during the second world war, by flying to America after hostilities ceased to keep in touch with horticultural developments overseas.
He wrote to his sisters from the Ford Hotel, Toronto in 1953 that he had seen the future and that it was called 'Garden Centres'.
His first garden centre was created within adapted sheds at Ferndown in 1955 and was the forerunner of the first purpose-built centre in this country opened in October 1961: Garden-Lands at Christchurch as we see it today (now Stewarts Christchurch Garden Centre) which was opened by TV personality Percy Thrower. Garden-Lands was quite possibly the first 'Out of Town' retail 'anything'!

Garden-Lands opening day crowd (the arrow points to Percy Thrower)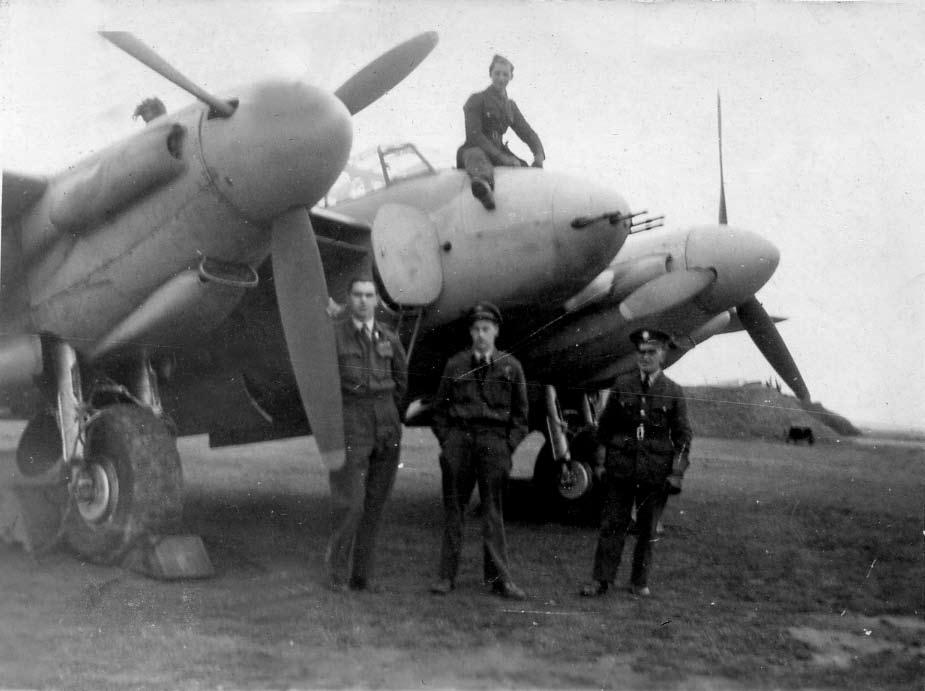 Ted (left) with a Mosquito bomber
The 1970s
During the 1970s a Garden Shop was opened on the site of the Nursery at Broomhill, later to become the Country Garden Centre.
In 1972 the Company also started Interior Landscaping following a visit to Stewarts by the PA to the Managing Director of Frizzell Insurance.
Now there are over 500 commercial premises in the south of England using the Stewarts Interior Landscaping's services.
The 1980s Onwards
Sadly Ted Stewart died suddenly in April 1982 leaving behind an industry changed out of all recognition due to his foresight, innovation and courage. His son and current owner of the business Martin Stewart took over the helm.
The company has thrived and in late 2016 Stewarts aquired Abbey Garden Centre in Titchfield, a centre with a similar passion for plants as the existing Garden Centres. More recently, with the help of Dorset LEP Stewarts have recently completed the building of a new Agritech Glasshouse, which is a state-of-the-art horticultural facility designed to increase Nursery growing capacity as well as the education of local schools and colleges like Kingston Mauward College.
Our Environment
Stewarts Garden Centres and Landscaping aim to be at the forefront of green issues in the way we operate, in the products we supply to our customers and the ethos behind how we run our business.
We have identified areas where our business can make a contribution to the environment and our surrounding area, this is our small contribution to making the world a better place.
We are delighted that our efforts at Stewarts Christchurch Garden Centre have been recognised by the Garden Centre Association and are now pushing even harder to make environmental changes for the better.
We constantly review our green accreditation and look for any opportunity to improve how Stewarts can help the environment, and we're always happy to hear your suggestions on how we can do more!
Recycling
We are actively trying to reduce our general waste collections by recycling as much as we can in our Garden Centres.
We currently recycle the following "standard" materials generated by the business through our trusted waste partners:








We also "recycle" rainwater on site by collecting it in water butts and using it to water our plants (most plants prefer rainwater to tap water anyway, so it's a win-win!).

Used coffee grounds from our Coffee Shops are bagged up and given away free to our customers. Studies have shown these grounds can be effective against slugs, in home made compost, as mulch and as a fertiliser.

The batteries we use on site are collected and recycled through a nationwide battery recycling scheme. You can drop your used household batteries in to the collection tubes near the tills.

We have an area for customers to leave and take empty plant pots in our car parks; those left behind are sent for recycling. We accept plastic plant pots marked with PS (6) and PP (5) but are unable to take pots marked with PETE (1), HDPE (2), V (3), LDPE (4) or Other (7).

Plants that don't make it to customers' homes that are in good condition are given another chance at our Thrifty Thursday plant sale at the Stewarts Nursery on Thursdays from 9am-12pm from March to October. Those that are past their best are ploughed back into our fields near Stewarts Broomhill Garden Centre, where our herd of cattle live.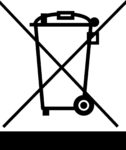 We are pleased to offer our customers the chance to recycle their old electrical items when purchasing a new item from us. Please speak to a member of staff for details on how to dispose of your WEEE item in store. For further information on recycling your old electrical devices with Stewarts, please see the following document: WEEE Recycling – Customer Info.
Green Operations
Some of the ways we are trying to make our business even more environmentally friendly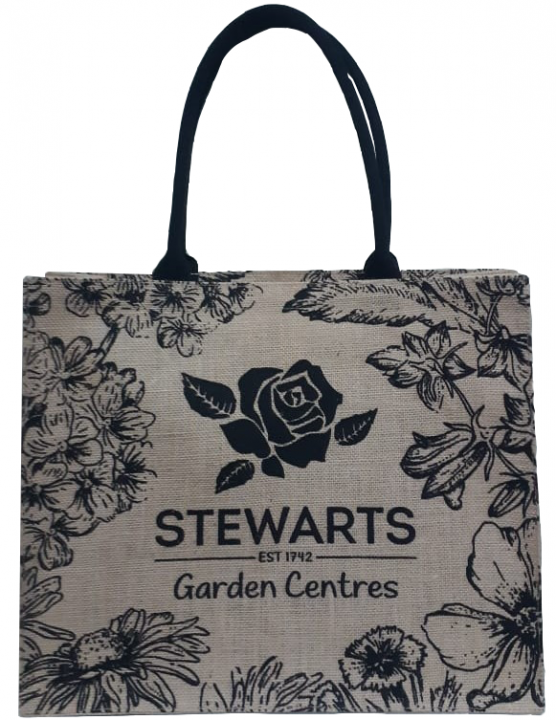 We sell durable Stewarts jute bags, for use time and time again, as well as a range of handbag-friendly folding bags in our Home & Lifestyle departments.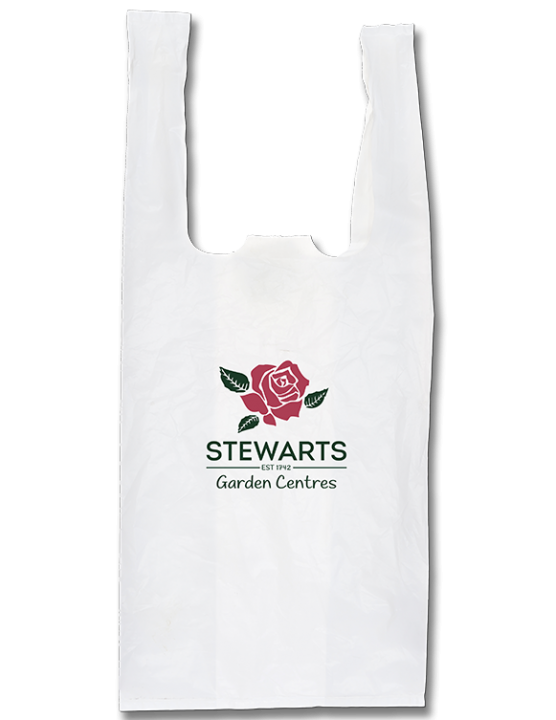 The 10p plastic bag charge goes entirely to our Charity of the Year, or we have empty used cardboard boxes available by our tills. Once our existing supplies are gone we will no longer stock single use plastic bags.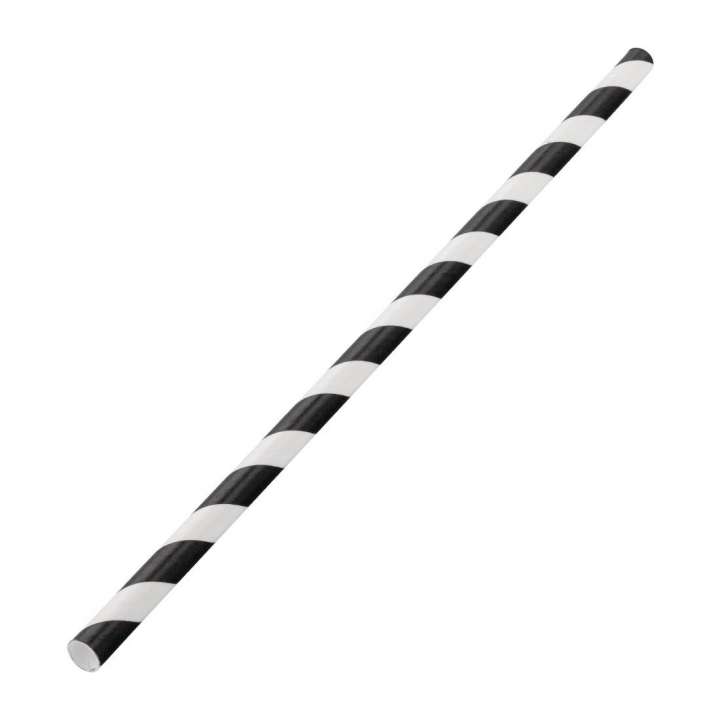 We only offer paper straws in our Coffee Shops and our takeaway food containers are cardboard or cane pulp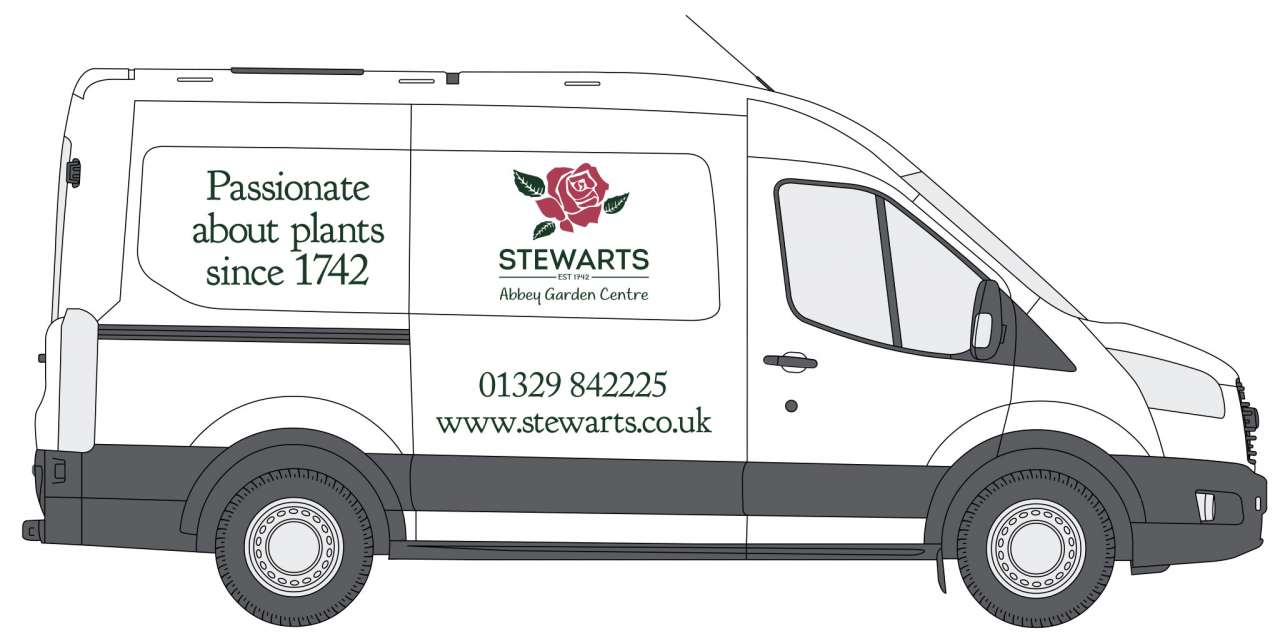 Every effort is made to reduce vehicle movements by efficient planning of rotas and deliveries and we use electric vehicles on our Nursery.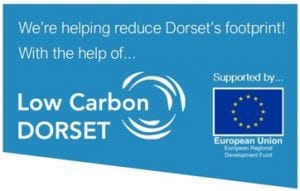 In a bid to reduce our organisation's carbon footprint, we have installed roof solar and LED lighting at our 2 centres in Dorset, plus a Ground Source Heat Pump and thermal screens in our new nursery glasshouse. This project has been part funded by Low Carbon Dorset as part of the European Regional Development Fund and will save over 440 tonnes of CO2 each year.
Environmentally Friendly Products
We're always on the lookout for environmentally friendly alternative products to help our customers make eco conscious choices.
It's impossible to be perfect but by making a few swaps here and there it's possible to reduce your environmental impact and give something back.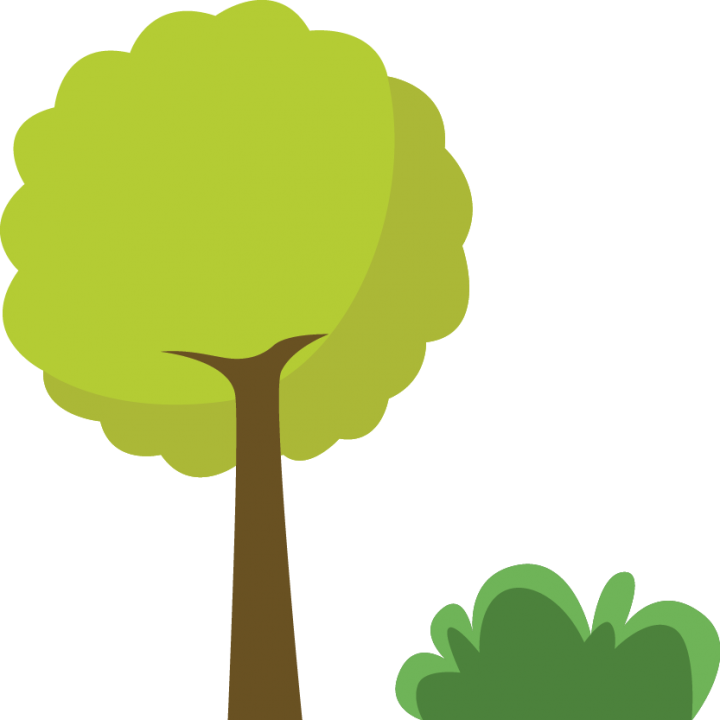 We sell plants and trees, possibly the most environmentally friendly thing you can buy!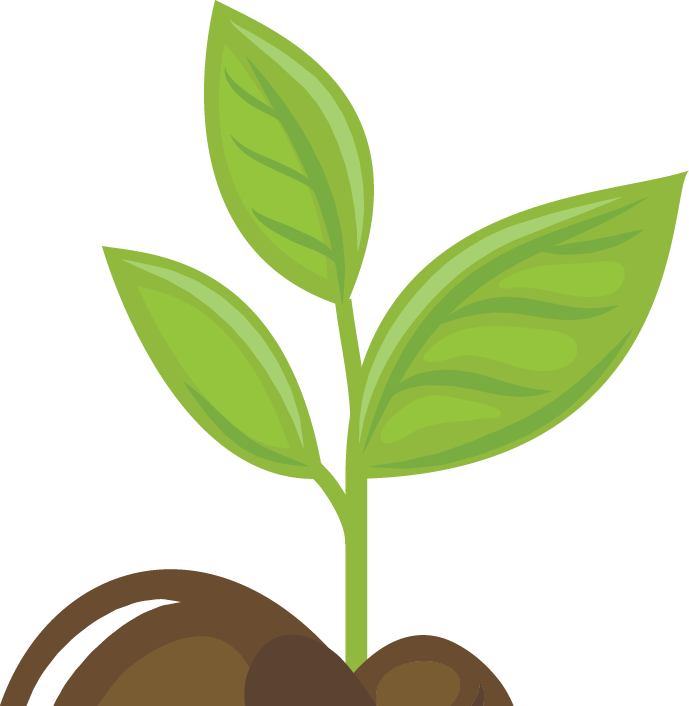 We grow and source as many plants as possible from local suppliers to reduce plant miles, including growing at least 10% ourselves on our own Nursery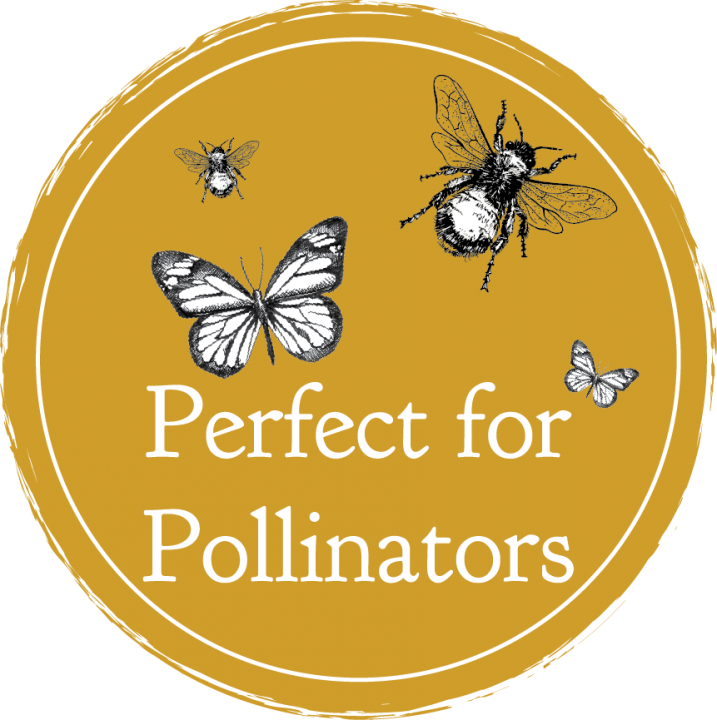 We promote plants that are good for attracting bees and other insects into the garden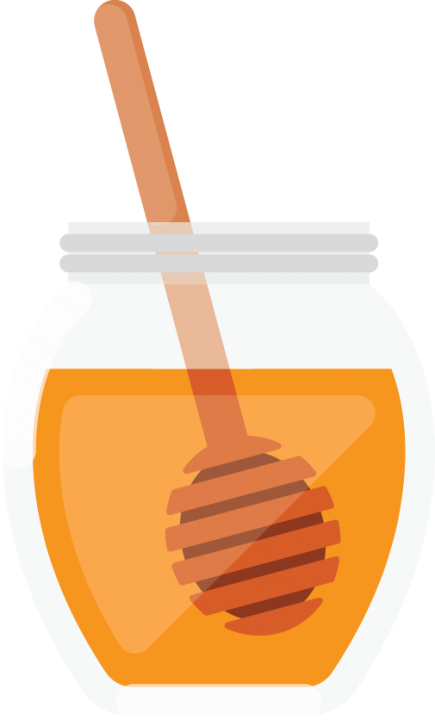 We sell honey collected from bees kept on site at Stewarts Christchurch and on God's Blessing Lane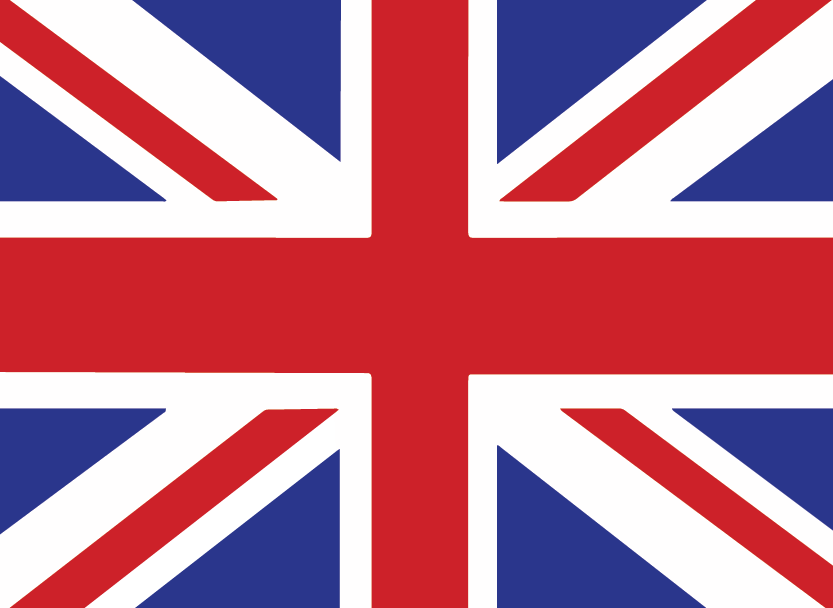 What plants we can't source locally, we try to source from elsewhere in the UK, keeping transportation to a minimum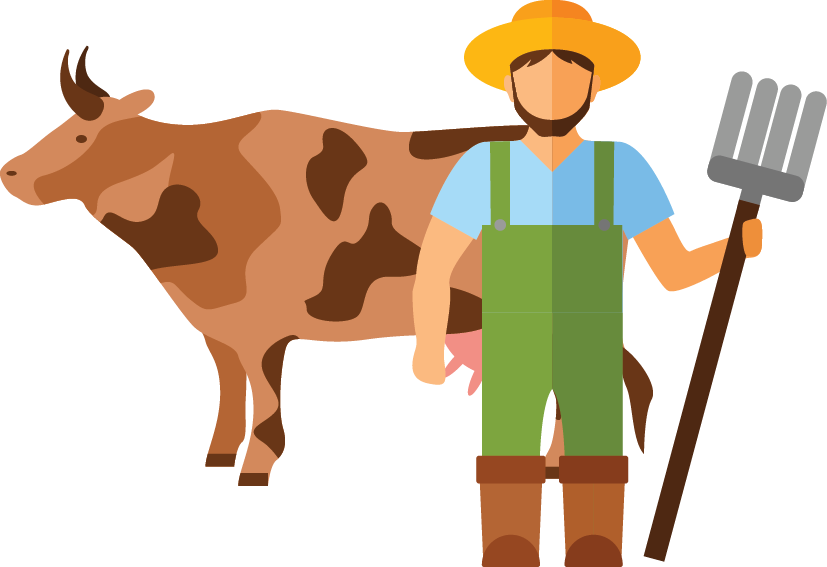 Most of the ingredients used by our Coffee Shops are sourced locally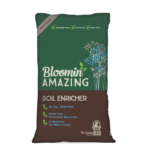 We sell reduced-peat products in line with current government guidelines, as well as eco-friendly alternatives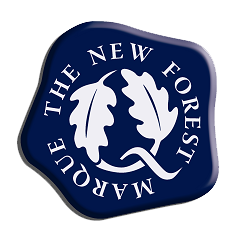 We sell a wide range of locally-sourced products, including many from New Forest Marque registered businesses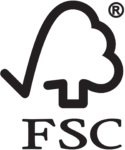 We endeavour to source furniture with FSC accreditation or from sources with environmental accreditations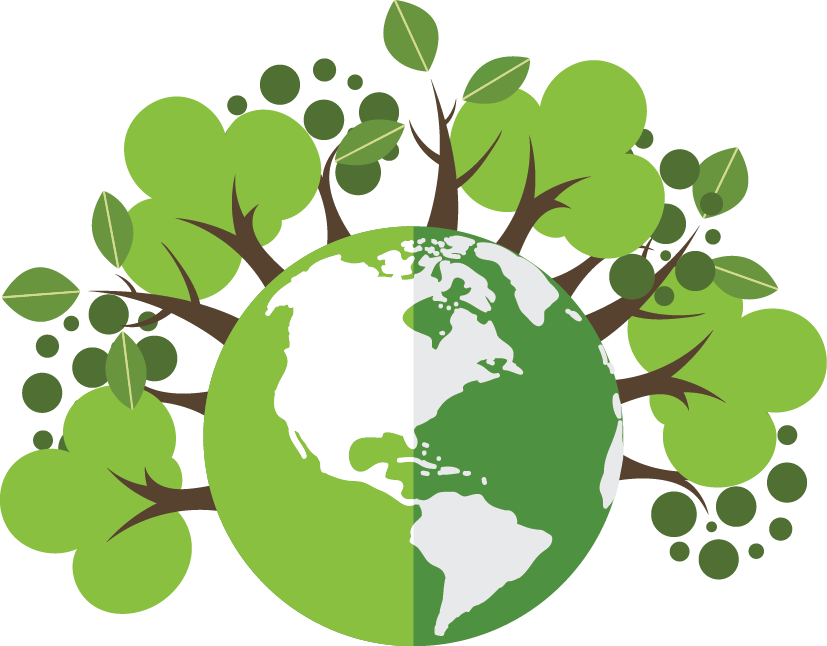 We look for new eco-friendly products to stock, such as recycled products, organic alternatives or plastic-free options
Our Community
As a family business, we know how important it is to look after one other, and that doesn't end with the uniform. We believe that support for our community is vital, and as such have been supporting various projects for many years.
We encourage links with local schools and groups to encourage and highlight the wonder of gardening among the younger generation
We host local wildlife charities such as the RSPB and Dorset and Hampshire Wildlife Trusts so they can discuss the importance of protecting nature and the environment with customers
We sponsor the children's classes at the Ferndown & District Horticultural Association's Spring and Summer Shows
Our Charity of the Year
Each year we (with the help of our staff and Privilege Customers) choose a local charity to support for the year. Throughout the year proceeds from special events, the carrier bag charge and funds raised from collection pots in our Garden Centres are raised for the chosen charity. Martin Stewart also gives talks throughout the year on the history of Stewarts, with all funds raised going to our Charity of the Year.
Minstead Trust
Stewarts are fundraising throughout 2023 for Minstead Trust to aid them in nurturing the unique potential of people with learning disabilities.
At Minstead Trust, they nurture the unique potential of people with learning disabilities. They support them to achieve greater independence and live happier and healthier lives.
This can be through support to live in their own homes, learning new skills at their day opportunities services or receiving work training to move towards employment.
One of their social enterprises, Furzey Gardens, is a peaceful garden and tearoom based in the heart of the New Forest. This beautiful space is open to the public to enjoy, and also serves as a place to provide work experience and support for people with learning disabilities. Every visit to this tranquil space helps them to provide even more opportunities for people they support, and with a cosy thatched tearoom, rare and unusual plants and over 40 fairy doors, they guarantee there is something for everyone in this secret garden.
We are so pleased to be supporting Minstead Trust for 2023, and we can't wait to expand this gardening partnership more!