Lopper Telescopic Ratchet Anvil
Short description
Ideal for giving you that extra reach while pruning
For powerful pruning of hard, mature and dead wood
Not recommended for green, live wood as this will crush and bruise the stem or branch
Wish to know when this product is in stock? Leave your email here to get notified.
Click & Collect
Award Winning Garden Centre
Lopper Telescopic Ratchet Anvil
Short description
Ideal for giving you that extra reach while pruning
For powerful pruning of hard, mature and dead wood
Not recommended for green, live wood as this will crush and bruise the stem or branch
Wish to know when this product is in stock? Leave your email here to get notified.
Click & Collect
Award Winning Garden Centre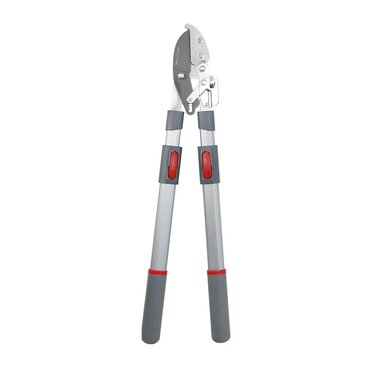 Lopper Telescopic Ratchet Anvil
Description
Kent & Stowe Telescopic Ratchet Anvil Loppers used for pruning tasks of hard, mature and dead wood. These loppers feature premium ground carbon steel blade with non-stick PTFE coating for rust resistance and a smoother cut.
Loppers are ideal for larger stems or branches that are out of normal reach or too large to cut with secateurs, therefore requiring two hands. Anvil action loppers have one blade that closes onto a cutting block. An anvil cut is more powerful than a bypass cut with minimal effort required.
Ratchet loppers allow you to cut gradually through one branch or stem, with minimal effort
Aluminium oval shape handles for added strength with non-slip comfort grip
Easy to use telescopic handles with 6 locking positions; adjustable from 690mm to 940mm
To keep these blades in good condition wipe with an oiled cloth after each use and sharpen when necessary
Cutting diameter: 45mm
5 year guarantee
How to maintain and care for your Garden Tools
It is very important to take proper care of your garden tool so that it continues to perform at its peak. Do not leave your tool outside, always store it away after use in a dry environment. Even in dry weather conditions your tools, if left outside, are exposed to moisture from wet grass and dew.
Cleaning and drying your garden tools will keep them in good working order. Always remove all of the soil from your digging tools after each use by washing the dirt off.
Never put your tools away wet. Allow them to dry completely before storing to prevent rusting and handle rot. For all wood handled tools apply a light coating of boiled linseed oil to help prevent the wood from drying out and cracking. If a wooden handle is very dirty, remove as much of the soil as possible with a stiff brush. If you need to use water, gently wet the handle with a damp cloth, making sure that you don't soak the wood, as this may cause the grain to lift and the handle to swell.
Thoroughly clean any tools which have been used for chemical applications. Fertilisers and other chemicals will rapidly corrode any metal.
Specifications
EAN code

5060396795305

Brand
Delivery Information
Local Delivery
Stewarts offer free delivery on all orders over £100 within our local area. For orders under £100 we charge £15. Below is a map showing our local area, if you are outside this then unfortunately we are unable to deliver to you but you are very welcome to use our click and collect service.

Once your order has been placed we will be in contact within three days to arrange a time and date that will be convenient for you to receive the delivery.
Click and Collect
All Stewarts stores offer the option to reserve items, pay for them online, and collect them in store. You can see from a glance which stores have the item you are viewing by looking at this section:

Once your click and collect order is complete we will send you an email to confirm that the items are ready for collection. We do ask that items are collected within 7 days or a refund will be issued and the products returned to sale.
Gift Card Delivery
Stewarts gift cards can be delivered anywhere in the UK free of charge. Orders are posted at the end of the working day by Royal Mail First Class. Royal Mail have a next-day delivery aim for First Class letters and parcels, but delivery times are not guaranteed especially in busy periods.